Weekly Market Review|Week 20 May 2022 Is Ethereum going through a correction?
Ethereum looks weaker at current price levels, with diminishing volume. Although it is expected that Ethereum will finish the "merge" into Proof-of-Stake this year, the sentiment in the markets is down. A sharp upward push could send ETH plummeting to as low as $900.
Ethereum looks set to take significant losses after failing to clear a key obstacle in its trajectory. Despite market expectations of "a merger," selling pressure may re-emerge should it breach the $1,700 support level. Ethereum is sluggish, and the crypto markets are seeing declining trade volumes. The second-largest cryptocurrency by market capitalization looks poised to resume its downward trajectory after suffering a setback to its $2,150 support level. While Ethereum has managed to keep $1,700 as a hold, it has not shown enough power to take significant gains.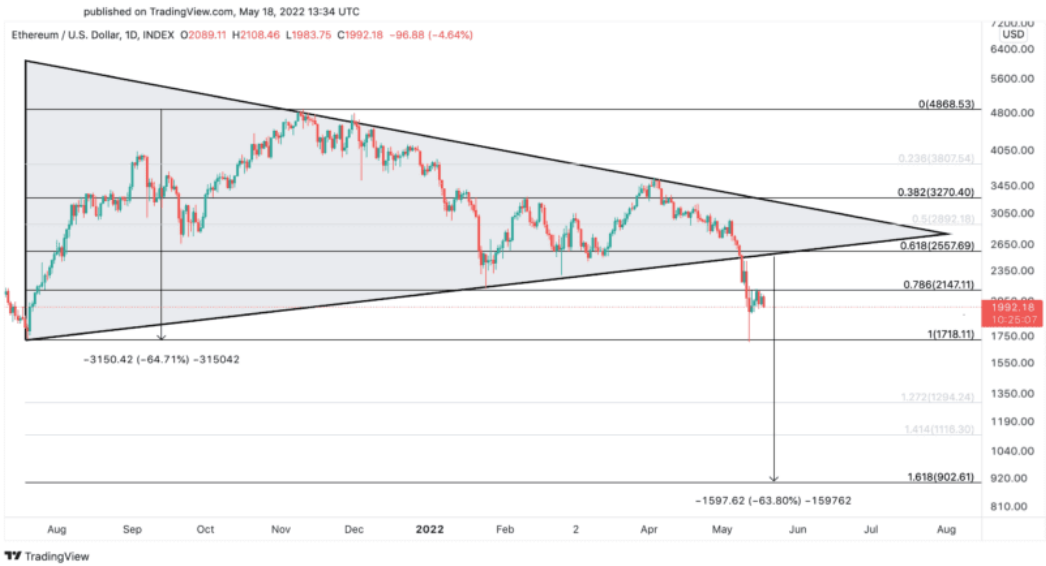 This technical pattern predicts Ethereum to go into a 64% downside trend once it breaks through the $2500 support on May 9. A closing day candlestick below $1,700 may further confirm the pessimistic outlook, leading to a sharp downtrend towards $900. IntoTheBlocks global In/Out Of The Money models lend credibility to the bearish case.
It shows that over 2.24m addresses are "underwater" on their holdings, having purchased more than 26.33m Ether from $2,130-$2,400. These addresses may sell off their holdings if there is another drop in order to avoid taking more losses, adding further downward pressure.
In that eventuality, the transaction history shows the most crucial support levels are in the $400-$1,330 range, with 13.26 million addresses holding over 13.1M Ether. Given the importance of the supply wall between $2,130 and $2,400, Ethereum would probably need to reclaim that region as a support in order for a pessimistic forecast to be nullified. 

Subscribe For The Latest
Analysis Report