Weekly Market Review|Week 1 July 2021
Market review and outlook:
Week 27 (2nd to 9th July) sees BTC traded in thin ranges, 15 days HV remains below 80 and 1 week IV subdued and trending lower towards 90. Spot ETH trades a similar pattern as well with 15d HV sideways at 105, however, the punters market seems hotter as IV picked up slightly from a week low of 101 to 109 coming to the end of the week. A quick look at ETH/BTC also suggests a stronger stance on Ethereum at the moment. However, volumes across both main coins still trade significantly lower than their 20d MA, which corresponds to the desk volume of the past 7 days. We were a seller of USDT, BTC and a buyer of ETH.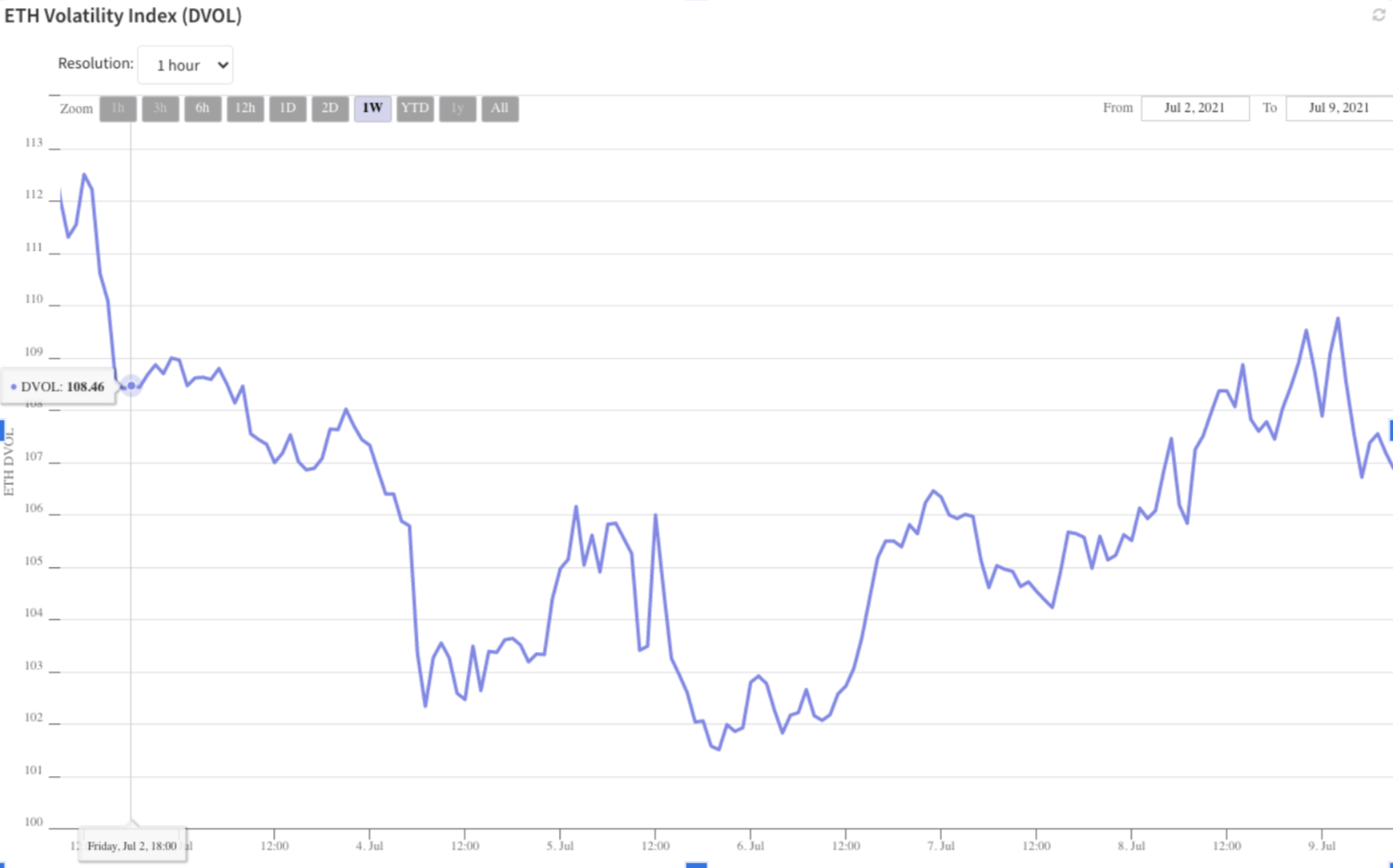 FX arbitrage market is equally challenging, North Asia currencies see a very tight discount ~50bps and South East Asia currencies maintain a sub 1% premium, which is very close to the breakeven spread. Korea still has a rolling 3% premium. However local regulatory enforcement put a brake on most of their related trading. As again, the desk only facilitates trades against G8 deliverable currencies.
On the short end (3-4 weeks out) we expect the market to stay just as calm, as near-term inflation expectation picks up, the cost of borrowing will also rise to result in fewer leverage positions overall. Bitmex historic funding rates did stay very close to nil for the past week with slightly bigger long positions. Recent strings of negative sentiment from the regulatory side of the business also present as a downward driver for the market as a whole, especially in China where a bulk of trading volume resides.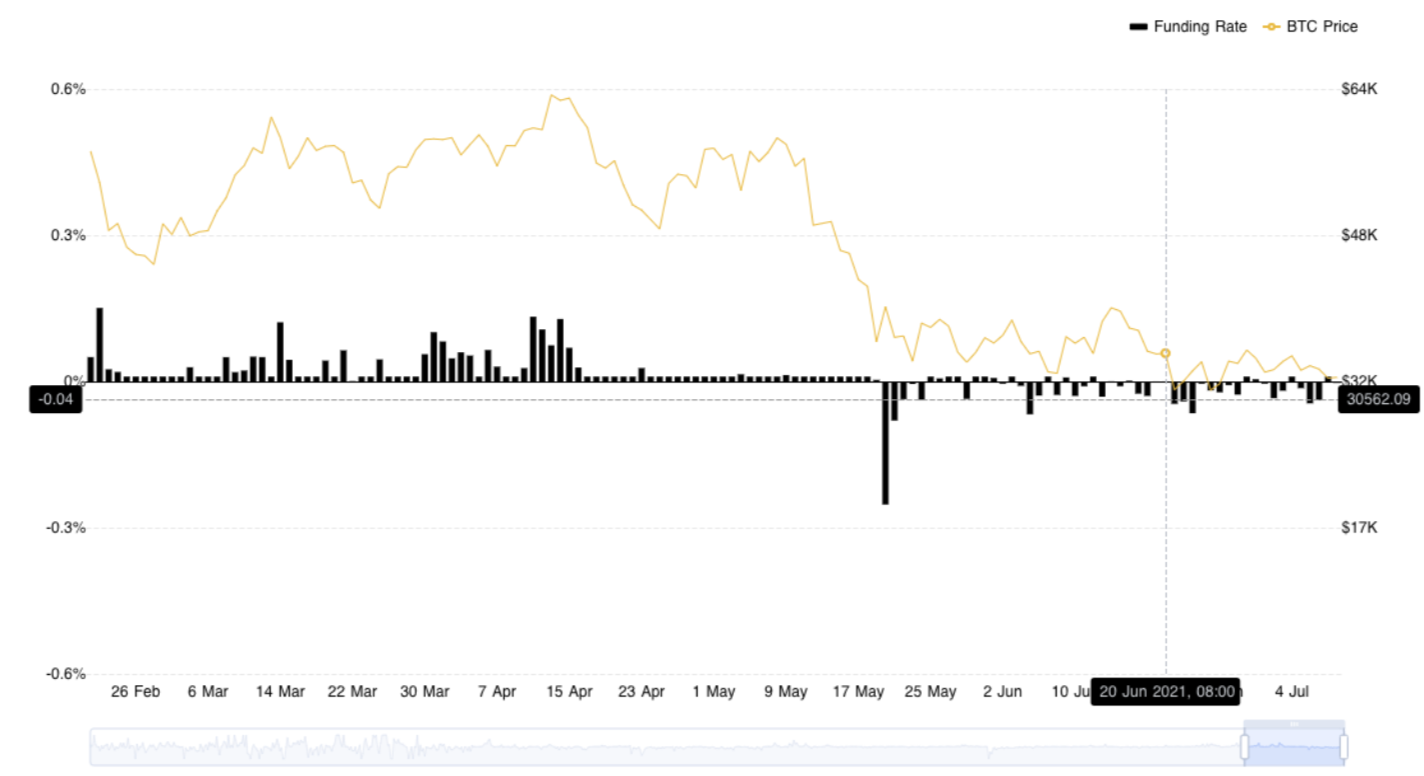 Alts is still in a deflationary trend as a whole, one better performer could be $SOL Solana, $ADA and $MATIC looks like there is still some room downwards while $DOT and $LINK are trying to find some support at a recent bottom. Defi yields fastly approaching traditional finance, especially in USDC. We also see USDC lending rates from CeFi tuning downwards to sub 4% as the crypto market cools down as less borrowing is needed for trading.

Some news clips past week:
1. Circle, USDC's operator to go public via SPAC $CRCL, valued at $4.5b
The deal is done through ex Barclays CEO Bob Diamond's Concord Acquisition, which will bring a total of $691m in fresh funding to the newly merged Ireland-based entity.
Filing reveals "Treasury and Transaction Services" to be its biggest business segment, expecting $65m revenue by year-end, followed by USDC fees and interest earned, expected at $40m rev by end of the year.
2. Seoul Investigates Dozens on Remitting Won Overseas for Crypto Purchases.
$1.48billion USD worth of money was sent overseas after receiving deposits from local crypto exchanges.
A wide range of channels is investigated, from remitting bank wires under false presentation, withdrawing abroad via Korean issued bank/ credit cards, third party payments and even cash deliveries.
Those caught will be subjected to fines and criminal charges.
3. Jack Ma's Blue Pool Capital invested in leading NFT creator Animoca Brands
Animoca focuses on signing partnerships with well-known events and creating non-fungible tokens on the blockchain.
On the back of several weeks long clampdown by the Chinese government, which has the latest leg of Beijing announced a ban on private businesses providing venue/ space for crypto-related operations, marketing and advertising.
4. Osprey Bitcoin Trust $OBTC Filed to Become an SEC Reporting Company
If approved, $OBTC will benefit from a lowered holding period of 6 months, the same as Grayscale's Bitcoin Trust $GBTC.
There is also BTCC-U which is traded on the Toronto Stock Exchange offering BTC exposure through an ETF vehicle.
Cathie Wood's ARK Invest is also pursuing its own 21Shares Bitcoin ETF.
5. Crypto.com Obtained Malta Money Operator License
The retail-focused crypto one-stop-shop would be the first Hong Kong-based entity to gain a Maltaian license.
Said license allows the firm to offer local bank transfers and issue payment cards directly with the licensed entity.
Crypto.com has also approved an equivalent license in Australia after becoming a principal member of VISA
6. Gemini to Expand in Asia Starting with Hong Kong and Australia
More US breed crypto service providers are getting a foothold in Asia this year, we have seen Galaxy Digital expanding their headcounts in the city and also Celsius Finance starting their representation here. Fireblocks was also reported to have opened shop the past 3 months despite local regulatory uncertainty.

Subscribe For The Latest
Analysis Report